To Newsroom
A unique mobile clinic reaches out to untreated hepatitis C patients in Sweden
The project called Street C offers hepatitis C tests for untreated patients through a mobile clinic. The purpose is to reach vulnerable patient group with often ongoing or recent drug abuse and link them to care. As a chronic hepatitis C infection causes liver damage over time, the project seeks to decrease liver-related diseases and improve patients' quality of life.
11.8.2021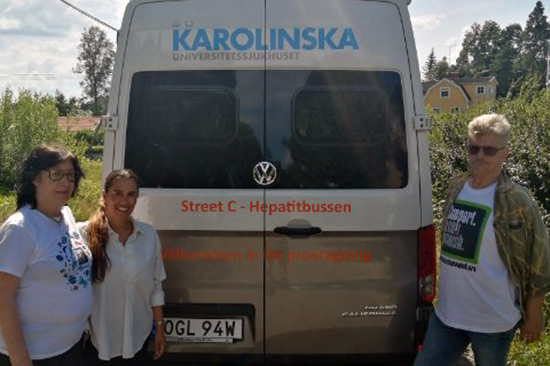 Street C is a joint project of pharmaceutical company MSD, Karolinska University Hospital, Oriola and two charity organisations, Convictus and Brukarförening, who work out in the streets to support people with drug abuse. As part of the six-month project, a special bus equipped as a mobile clinic started its rounds in Stockholm in July. It offers people an opportunity to get tested for hepatitis C and get their liver scanned for potential liver damage.
"If a patient has a positive test for hepatitis C, we connect them to healthcare to be examined. After that, our staff in the bus will have a dialogue with healthcare nurses, and we meet the patient again and together start the treatment according to doctor's instructions. In addition to testing, we also give information about hepatitis C and its treatment, which has progressed positively in recent years with more effective medication," says Maria Edenman, project manager for Street C from Oriola's patient support services. Alongside her, healthcare nurses and volunteers from charity organisations are present in the bus.
Around 1,500 new diagnoses annually in Sweden
Hepatitis C is a virus causing liver inflammation. Around 70% of infected patients develop chronic infection, which causes liver damage over time. In Sweden, there are around 20,000–30,000 people with diagnosed hepatitis C infection, and approximately 1,500 new cases are reported annually.
"The challenge is that the hepatitis C infection doesn't often cause any symptoms, which means many infected are not aware of their condition until severe damage to their liver has already developed. Chronic hepatitis C can lead to development of liver cirrhosis, with increased risk for liver cancer and liver failure," says Soo Aleman, Head of Outpatient clinic Huddinge, Dept of Infectious Diseases, Karolinska University Hospital, and responsible doctor of the Street C project.
When hepatitis C is diagnosed and treated, the liver damages can be prevented, which reduces costs of liver-related diseases for healthcare and society in addition to improving patient's quality of life.
Seeking patients in their own environment
A high-risk group for hepatitis C is intravenous drug users, who are typically also hard to reach in healthcare. The purpose of the Street C project is to actively seek potential patients in their own environment.
"It is important that we go to them, as the patients we are targeting might have bad experiences from healthcare or feel stigmatised by the disease or their lifestyle. Taking care of health is not a priority to them with all other problems. Personally, I feel this project has an important social significance as we can increase the life quality for people who don't have the same opportunities than most of us," says Maria Edenman.