To Newsroom
A great product deserves a successful launch
The market entry for a new product or service requires special attention – after all, you can only enter the market once, notes Kaisa Rämä, Head of Sales and Marketing Services, in her blog.
11.1.2022
Are you one of the lucky ones who have managed to develop a new and unique solution that makes a difference in people's everyday lives and wellbeing – a product that everyone is excited about? Then you know how much teamwork, research, product development and branding it takes to succeed.
Even a great product will not simply sell itself. You might be disappointed if, despite diligent groundwork, your new product does not find its way to the pharmacy shelves and to consumers' shopping bags. Too often, the market entry for a new product or service fails due to inadequate launch work. You can only enter the market once, so this phase requires special attention.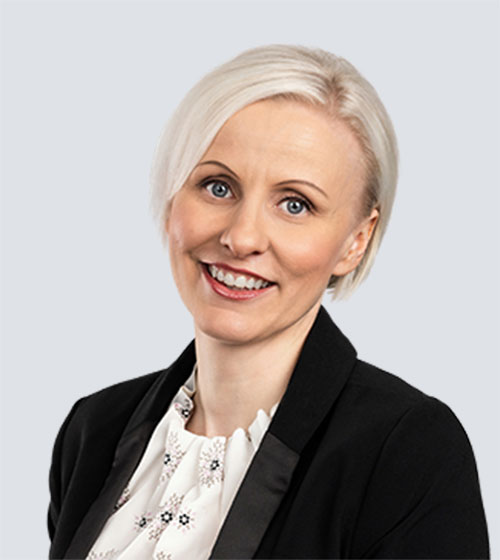 There are existing sales channels for health products: In Finland, there are nearly 820 pharmacies and branch pharmacies taking care of pharmaceutical services in their area and serving customers with strong expertise. The amount of knowledge pharmacy professionals have continues to amaze me time and time again. It is no wonder that we Finns rely on our pharmacies and their competent staff.
As a pharmacist, I feel that we are doing very important work as part of the healthcare chain. We are very motivated to serve our customers with up-to-date information and we are always keen to learn about new products. In this way, we can find a suitable solution for each individual customer and their situation. I think it is very important to familiarise pharmacy professionals with new products and ensure that they have the latest information about the related therapy area. When pharmacy professionals are given comprehensive training as part of the launch activities, it is easy for them to recommend the product to consumers who will benefit from it.
Oriola is a key player and expert in the healthcare sector market in Finland. We connect pharmaceutical companies and other importers of health and wellbeing products with pharmacy professionals. Our experienced representatives meet and train pharmacy personnel daily. Additionally, our agile and time-saving digital trainings and webinars reach pharmacy professionals efficiently and work to support traditional sales representative work.
As a sales professional, I have implemented several successful product launches together with my team, and we are also familiar with the pitfalls to avoid. With our understanding of the target market and consumer needs, we support importers of self-care products to successfully carry out launch campaigns in Finland. By combining knowledge of the customer's needs, successful trainings, and product launches, we can build a healthier tomorrow together.
Tips for a successful product launch:
Start big, but keep in mind the important little details.
After investing in your market entry campaign, continue to work together with pharmacies to support your product's long-term presence on the market.
The old wisdom applies here too: well begun is already half done. Plan and schedule your launch activities carefully but be prepared to adjust them where necessary.
The writer, Kaisa Rämä is a pharmacist and M. Sc. (Econ). As the Head of Sales and Marketing Services at Oriola she helps customers to get products onto the shelves and makes sure they are sold quickly.