Strategy and targets
Oriola's purpose, 'Health for life', guides our operations together with our vision and mission. Our goal is to enable a healthier tomorrow by providing sustainable health and wellbeing products and services.
Our strategy ensures that the company is working towards a common goal. Our operations are diverse, but we share common objectives. We have defined six strategic goals to ensure our success.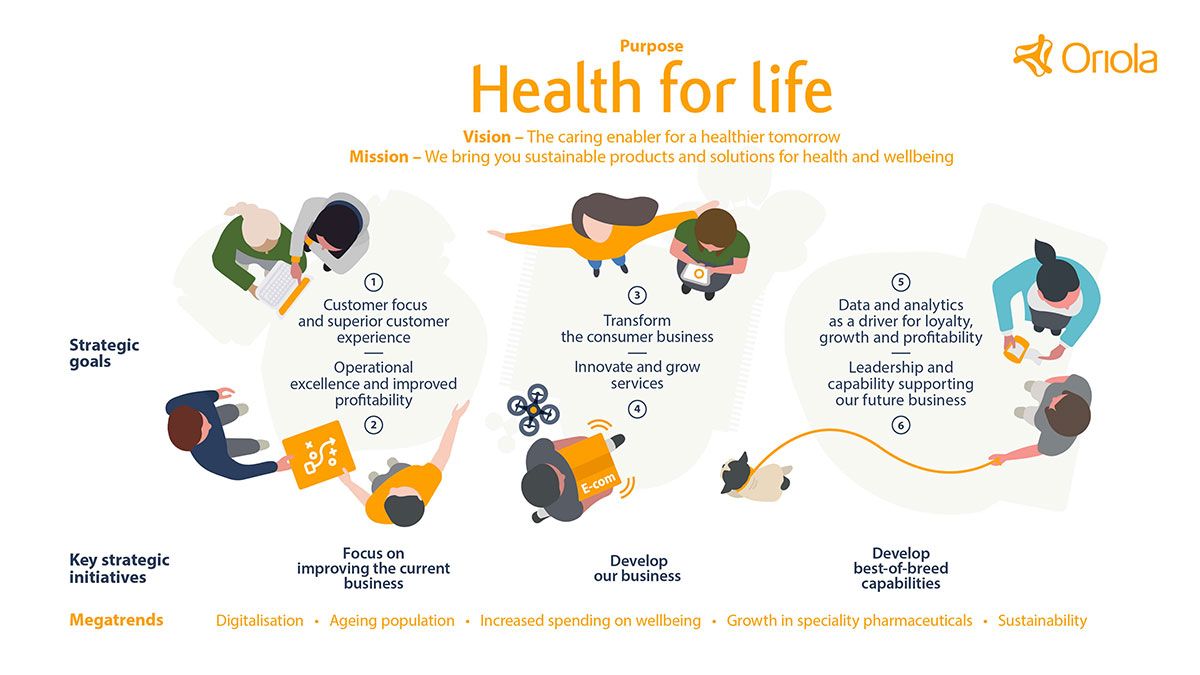 We focus on assuring the high quality, efficiency and excellent customer experience of our operations. In our Swedish pharmacy business, we strengthen digitalisation and further develop our full range of pharmacy services to meet changing demands in the consumer market.
Oriola's position in the middle of the lifecycle of pharmaceuticals provides us several data-related opportunities. Our aim is to build an ecosystem based on partnerships for the benefit of the entire pharmaceutical sector and patients. Innovations and partnerships offer excellent opportunities for new business and creating a unique service portfolio for our customers.
We are a knowledge company, and our success is based on the competence of our people. We develop our personnel's competence and ensure strategic capabilities for Oriola.
Long-term financial targets1
Business growth at the rate of market growth
Annual EPS growth over 5 per cent, without adjusting items
Return on capital employed of over 20 per cent
Adjusted gearing ratio of lower than 70 per cent2
1 Calculated excluding the impact of application of IFRS 16
2 Non-recourse trade receivables are added to the net debt
Long-term sustainability goals
Improving people's health
Best-in-class employee engagement
Carbon neutrality by 2030
As a health and wellbeing company, sustainability is at the core of our operations: we promote the health of people and the entire society. Read more about Oriola's sustainability strategy.