To Newsroom
"Previously dispatch notes were used to follow medicine's path – now we have real-time data"
Digitalisation has transformed pharmaceutical distribution over recent decades: medicine's path was previously monitored from dispatch notes, but now data is available almost in real time, writes Oriola's Transport Manager Juhani Jäppinen in his blog. He has watched the development of pharmaceutical distribution for nearly 30 years.
25.1.2022
Pharmaceutical distribution is a responsible societal task that is essential for healthcare and patient safety. A major share of pharmaceuticals used in Finland go through Oriola's distribution centre in Espoo and on to pharmacies, hospital pharmacies, veterinarians and other healthcare operators. The distribution chain must work seamlessly as from the order medicines are delivered in 24 hours to all over the country.
This core task has remained, but many other things have changed over the past 30 years. The biggest transformation force in pharmaceutical distribution – and many other sectors – has been digitalisation. When I started my career in pharmaceutical transport in the mid-1990s, no one had personal computers, few had email and a warehouse management system might have comprised 40 different systems. Data transfer has become faster and automated in a way that was unimaginable back then.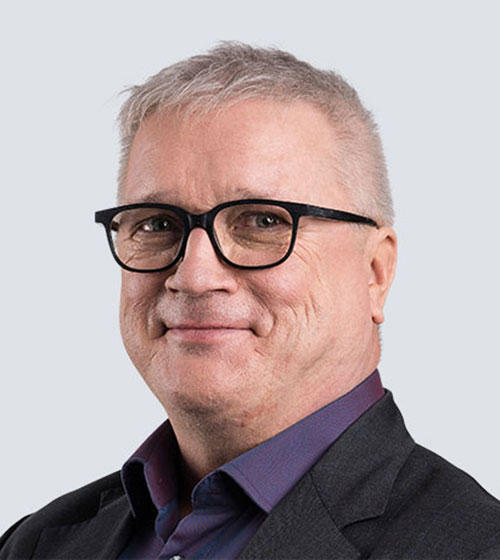 This has greatly improved the transparency and quality monitoring of pharmaceutical transport. The information from medicine's path in the transport chain was also previously available, but only through physical dispatch notes. Now we can follow a transport box on its way through electronic data nearly in real time. While for the layperson it may seem that cargo still travels on rubber tyres, much has changed inside vehicles. For example the quality monitoring has greatly improved, starting with temperature controlling and surveillance technology – we are getting temperature data from both inside transport box and different parts of the vehicle. This meets the growing need for maintaining special temperatures during warehousing and transport. COVID-19 vaccines are an extreme example, as their distribution may need freezer temperature. This requires high-quality temperature controlling from us and our transport partners.
Climate change is another factor having a major impact on transport. It has driven the technology development of vehicles and implementation of various solutions to cut emissions, such as fossil-free fuels. A recent milestone was the first fully electric trucks entering the market. We have constant cooperation with our transport partners to cut emissions, and for example in Oriola's pharmacy deliveries in the Helsinki Metropolitan Area, the share of biofuels has increased from 40% to nearly 95% over the past two years.
The need to reduce emissions will certainly continue to affect technology development, but in addition to the transport phase it is essential to have a holistic view. Therefore I believe AI-based smart optimisation of the order-supply chain is the future. In pharmaceutical distribution this is a challenging and big task, and its development requires wide cooperation with various stakeholders in the entire distribution chain. Even though the solution doesn't yet exist, maybe for someone looking back in 2050 it will feel as self-evident as moving from dispatch notes to real-time data transfer now feels to me.
Juhani Jäppinen has worked with Oriola's pharmaceutical transport since 1994. He will retire in February 2022.