To Newsroom
Nearly one fifth of people throw away medicines to trash or drain in Finland
31.8.2020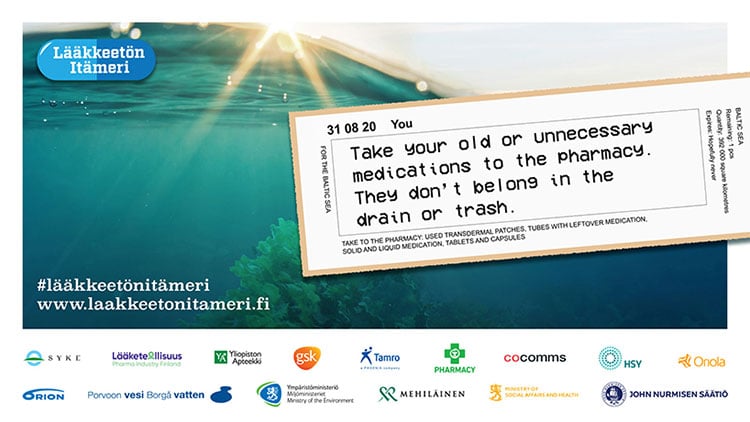 A campaign to protect the Baltic Sea encourages consumers to take unused medicines to pharmacies. A reminder is necessary as a recent survey revealed that many are still disposing medicines in ways which burden the environment. Oriola is one of the participants in the campaign, which is now organised for the third time.
People still have room to improve when it comes to disposing expired or unused medicines in Finland. According to a consumer survey commissioned by the campaign to protect the Baltic Sea from medicine residues (Lääkkeetön Itämeri -kampanja), 18% of people dispose medicines to drain, toilet or trash.
"Appropriate disposing of medicines is important for the environment. Medicine residues that end up in drain or trash cause unwanted hormonal effects and behavioural disorders in organisms, for example, and spreading of antibiotics resistance in the environment," says Leading Expert Taina Nystén from the Finnish Environment Institute.
All solid and liquid pharmaceuticals as well as pills, capsules, used transdermal patches and tubes that still contain medicine should always be taken to a pharmacy. The survey also revealed that only 30% of people in Finland know that used transdermal patches should be taken to a pharmacy together with other medicine waste. The fact that expired and unused pills and capsules should be taken to a pharmacy was widely recognised.
Oriola takes part to the industry wide campaign as part of its corporate sustainability programme. The Finnish Environment Institute and The Association of Finnish pharmacies act as expert organisations in the campaign and John Nurminen Foundation as a patron.
"Promoting sustainable and safe medicine usage is an important target for the whole industry. Our pharmacy employees in Finland and Sweden advise daily thousands of people on medicine usage. The most effective way to prevent medicine waste from ending up to the environment is to minimise it. For example, dose-dispensing service decreases medicine waste as it includes a medication review and customer only receives necessary medicines as exact doses to be consumed at a time," says Tuula Lehto, Vice President, Communications and Sustainability at Oriola.
Checklist: How to dispose medicines appropriately
1. What medicines should be taken to a pharmacy?
Transdermal patches, solid and liquid pharmaceuticals, pills, capsules and tubes that still contain medicine should be taken to a pharmacy.
2. How do I return medicines?
Remove pills and capsules from their packages and put them to a transparent bag. Put creams and aerosols to a bag in their own package without the product information label. Keep liquid medicines in their original bottles and put them in a separate bag. Before placing transdermal patches to a bag, fold them so that the surfaces containing glue are against each other. Remove information labels from plastic and cardboard packages and take them to appropriate collection point for recycling. Take all plastic bags to a pharmacy.
Always return these separately in their own bag:
medicines containing iodine
cytotoxic medicines in their original packages to pharmacy personnel
syringes and needles in an impermeable container, such as a bottle or a box. Please ask your pharmacy how to dispose insulin needles in your area.
thermometers containing mercury
3. What products don't need to be taken to a pharmacy?
Basic creams, nutrition supplements and natural products, for example, can be disposed in mixed waste.
*Consumer study commissioned by Lääkkeetön Itämeri campaign 2020. Kantar TNS Oy, 2/2020, 15 to 79-year-olds n=1,111.
Follow the campaign which is on from 31 August to 13 September 2020:
www.laakkeetonitameri.fi (in Finnish)
Facebook: Lääkkeetön Itämeri
Twitter: @Vieapteekkiin
Instagram: laakkeeton_itameri